Advance Word Find & Replace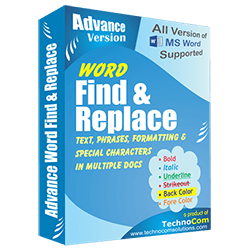 $ 89.95
This innovative tool is efficient to search and change numerous words in multiple word files. Along with replacing words it also provides choices to alter the formats of the words like changing of fonts, its size and even colors. The unique thing about this software is its flexibility to support all formats of word files and processing thousands of them.
Advance Word Find & Replace tool can search & replace words from numerous word files. The tool can find & replace thousands of words within seconds. It supports functioning in all formats of MS word i.e. .doc, .docx, .dotm, .dotx, etc. The tool is very accurate and fast in its work thus saving ample time and effort of the user.

This amazing word replacer provides choice to alter the format of the words like changing of font & its size, color of font and even background & foreground with many other things in Word files. Even user can apply various formatting like subscript, superscript, strikethrough, etc. in the words.

This tool has been provided with the most amazing features that make the work smooth and swift. The list of words that has been changed and that has been kept can be saved for use in future. Other than English the software can find and replace files in different languages like German, French, Persian, Russian, Korean, Italian, Urdu, Chinese, Arabic, Japanese, and many other Indian languages. It is the best find & replace tool in excel.
This tool can find & Replace thousands of words within seconds in Word files.
Users can dump as many Word files as they want.
The tool assists in all versions of MS Word i.e. 2013, 2010, 2007 & 2003.
There are options that can even change the format of the words.
Format like fonts, their size, color of fonts, background & foreground color of the words can be changed.
The handling part of this tool is very easy and can be operated in daily official work.
Users can save the list of words both kept & replaced.
Along with English the tool also supports find & replace in languages like- Greek, Hebrew, Tagalong, etc.
It is a reliable software and user friendly too.
Undoubtedly the best tool to find & replace words in Word files.
Optimized for Windows 8.
Get free Update from update option.
Stability Issues Bug Fixed.
Power Searches
Word find and replace, word find replace, find and replace in word, find and replace software, search and replace in word