Batch File Rename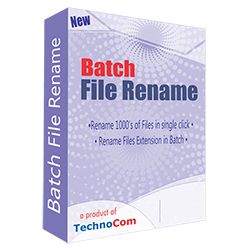 $ 39.95
The software helps you in renaming files of all formats according to your need and choice. You can rename files manually according to your wish or can use the options provided. The tool provides choice to rename extension of the files. You can either copy or move the files that you have to rename. It is very quick in renaming the files and does exactly as ordered by you.
Batch File Rename is a tool that was developed to rename bulk of files quickly. The tool has been rigged with marvelous features that make it the best file renamer in the field.

The tool Batch File Rename can rename files both manually and with the help of the options given. There are two ways of renaming files in this tool- File rename property and Custom Rename. With file rename property user can add Prefix, suffix, separator, extension, etc. in the name of the file. But with Custom Rename option user can rename files manually by giving them names according to their choice.

A large chunk of files can be renamed with the assistance of Batch File Rename. The tool works very efficiently, accurately and swiftly that saves a lot of time & effort of the user. It is the best file renaming tool in the field with this affordable price.
Batch File Rename can rename thousands of files in one click.
It supports the process of renaming files in almost all formats.
The tool can rename files both automatically and manually.   
Users can add Prefix, suffix, separator, extension, etc. in the name of files.
With custom rename option user can rename the files manually.
Also provides option to save the file in a target folder for its use in future.
The tool is very easy to operate and can be vastly use for renaming of files in the daily work.
It is indeed the best tool in this particular field.
Optimized for Windows 8.
Get free Update from update option.
Stability Issues Bug Fixed.
Power Searches
Batch File Rename, File rename software, File renaming software, File rename, file renaming tool, mass file renaming