Word Files Object Remover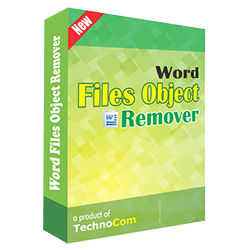 $ 49.95
Word Files Object Remover is an amazing tool that can remove objects & images from numerous word files. It supports word files of all formats like .dco, .docx, .dot, docx, .dotx, etc. and has the capacity to process in batch. It removes all these things from word files at a tremendous speed and does exactly as you want.
All the features that are furnished here are totally unique in nature. Along with objects & images the tool can also remove hyperlinks, text frames & boxes and even header & footer from the files. It has ample amount of choices provided to remove all these things from plenty of word files. After all the changes have been made the files can be saved in their native folder or in a target folder allotted by user.
Handling this tool is one of the easiest things you would have ever done with an apparatus. All the commands of this tool are arranged in a way that the work can be accomplished with just few clicks of mouse. You just have to dump files and choose options according to your needs. Then click on 'Start' to begin the process. If you want to change the file location for saving purposes then before going to Start go to Folder Options and change it. So you can observe how easy it is to operate this tool.
Word Files Object Remover tool can be very beneficial for organizations and corporate in their daily office work. It is flexible enough to work in all versions of windows i.e. 2013, 2010 & 2007 etc. This amazing tool is probably the best one for this purpose.
It removes objects & images from multiple word files.
Along with images it is also capable of removing hyperlinks & text frames.
The software can process word files of different formats like .doc, .dot, etc
It also gives choice to save the files where things are removed.
It works with amazing speed & sharp accuracy that saves a lot of time & effort.
Adaptive to all versions of MS word i.e. 2013, 2010 2007.
Optimized for Windows 10.
Get free Update from update option.
Stability Issues Bug Fixed.
Power Searches
Remove objects, remove hyperlink, word remove all hyperlinks, word remove all hyperlinks, word image remover, word remove all hyperlinks, set margins in word