PowerPoint Files Binder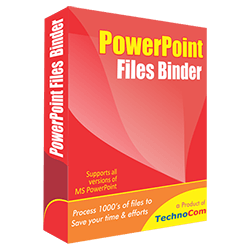 $ 39.95
PowerPoint Files Binder tool can merge numerous PPT files & transform it into a new file. The apparatus has the capacity to merge thousands of PowerPoint files in one go & user can dump PPT files of all formats. It is a quick & accurate finisher that saves huge amount of time & effort of the user.
This PPT files binder has all the required options for merging PPT files. It has an easy structure which makes handling of this tool easy & smooth. Choice to save the new file created is also available in the tool. It can be saved at a destination selected by the user only.


Along with all these amazing features the software can work in all versions of MS Office like 2013, 2010 & 2007. It can run in all of them without any difficulty. The software is undoubtedly the best to bind PPT files into one single file.
It can bind files of PPT & make them one single file.
The software can process thousands of files in one go.
User can drop PPT files of all formats like .ppt, .pptx, etc.
The newly created file can be saved in a folder chosen by you.
It can perform fluently in all versions of MS Office i.e. 2013, 2010 & 2007.
The tool is very easy to operate & that is because of its structure.
It works accurately as commanded & reduces the time of the user.
This tool is the best one to bin ppt files.
Optimized for Windows 10.
Get free Update from update option.
Stability Issues Bug Fixed.
Power Searches
Merge PowerPoint files, combine PPT files, file PowerPoint binder, PowerPoint files binder, PowerPoint merger, merge multiple PPT files into one, combine PowerPoint files