Bulk SMS Sender (Two Phone Support)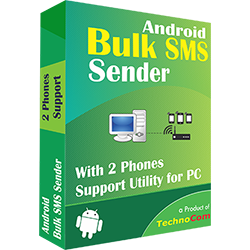 $ 70.00
It is a tool that makes the work of sending messages easy and smooth. The device supports two cell phones in one time and can send messages through both of them. Along with sending of messages the tool also provides choice to save the content of the message. It is efficient in sending personalized messages keeping privacy of the user. The log sheet of this tool tells you about failed and sent messages.
Multiple Phone Bulk SMS Sender can send text messages in bulk to numerous recipients. At one time two phones can be connected in the pc to send messages. The tool automatically detects the phone connected with the PC. Users can send personalized messages to a particular person, group or colleague. The swiftness & preciseness in it saves a lot of time of the user.

Some amazing features have been furnished in Multiple Phone Bulk SMS Sender to make the work of user easy and effortless. The content written for the recipients can be saved for its use in future. Even if users don't have cables for the cell phone then they can also use Bluetooth to send messages. User can even send different messages to different people. The USP of this tool is that it can send messages even to the numbers that have DND applied on them. It is the best SMS sending tool in the market.


IMPORTANT NOTE: PC Suite is required for the Mobile Nokia, Samsung, etc.
Multiple Phone Bulk SMS Sender can send messages to large number of people or recipients.
The tool can connect up to 2 phones in one time and can send messages to all the numbers saved in them.
It automatically identifies the connected cell phone and brings the numbers on the screen.
Apart from USBs the cell phones can be connected through Bluetooth also.
User can send personalized messages to a selected person or group and can send messages to them.
Even if a number has DND applied on it the message will be received to them with the help of this too.
The content that has been written for the SMS can be saved for use in future.
If user has already saved a list of numbers in a file or sheet he can use that too to send messages.
The accuracy & speed of this software makes it the best tool to send messages to numerous recipients.
Optimized for Windows 8.
Get free Update from update option.
Stability Issues Bug Fixed.
Power Searches
send group sms, multiple sms sending software, batch sms software, pc to mobile SMS,, SMS Tool , SMS Software