PowerPoint File Details Extractor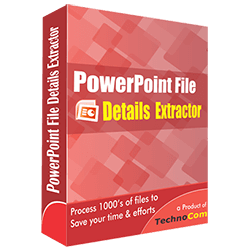 $ 29.95
PowerPoint File Details Extractor tool has been created to extract properties from files of PowerPoint. This tool is capable of extracting properties like title, Keyword, category, author, etc. from huge amount of PPT files. It can execute PowerPoint files of all extensions like .PPT, .PPTX, etc.
This PPT property extractor has awesome features that are hard to get in any other tool of this department. These characteristics make this apparatus in the leading position compared to other PowerPoint property editors. It also provides option to save the data either in .CSV format or in .TXT format so that they could be used in future.

The speed and accuracy of this makes it the preferred choice for this purpose. This software can be very beneficial for big organizations and corporate.
The tool can extract properties of PPT files.
It can extract properties like author, category, title, etc.
PPT files of all extension like .ppt, .pptx, etc. can be easily processed.
Huge number of files can be processed in the tool for fetching properties.
The extracted data can be kept either in .CSV or in .TXT format.
This tool can be utilized in all formats of MS office like 2013, 2010 & 2007.
It accomplishes the job perfectly & accurately.
Optimized for Windows 10.
Get free Update from update option.
Stability Issues Bug Fixed.
Power Searches
powerpoint file details extractor, ppt properties extractor, how to extract properties in pptx, find properties in powerpoint file, batch powerpoint properties extractor, pptx properties finder