Advance Bulk Mailer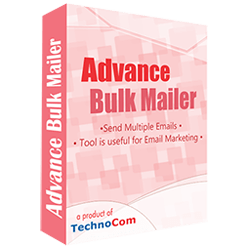 $ 69.95
Mailing is the most preferred mode of communication in today's corporate world. This is the reason a tool of this type has emerged. It is an expert in sending mails to large number of recipients without wasting any time of yours. With this you can send personalized mails to person or a group. Along with that you also get log report updating you about the mails sent successfully and that have failed.
Advance Bulk Mailer tool can send mails to numerous recipients in one click. The tool has expertise to send mails to many recipients within seconds. The tool reduces the chaotic job of sending mails to a lot of persons in shortest span of time. It performs the job in an amazing speed and lessens the time period required to do it.

Mails are the prime source of communication in the corporate world today. Every entrepreneur wants to communicate more & more people quickly. This is the reason that a tool of this type has been devised. This mailing tool has unique features that make it totally different from other software of this field. You can send mails to as many recipients as you want. Users can even send personalized messages to a particular group or an individual and can also save the matter of the message sent. It also has option to choose templates of your choice for the mail.

The tool keeps user updated about the mails sent successfully and mails that failed through a log file to the users.  With so many amazing features the tool Advance Bulk Mailer is undoubtedly the best mailing tool.
The tool Advance Bulk Mailer can send mails to a lot of recipients in one go.
Users can send personalized mails to some particular persons or group.
Free mailing services like Gmail, Yahoo, Ask, Hotmail, etc can be used to send mails through this tool.
User has to configure his/her ID in the tool to send mails.
If users already have a list of mail ids in excel or txt file then they can use it to send mails.
It has option to save the content of the mail so that it can be used in future.
There are templates also given in the tool for a better outline of the mail.
It can be very beneficial for the organizations that do use mails for marketing purposes.
It is flexible to work in all versions of windows and that makes it the best mailing tool in the field.
Optimized for Windows 10.
Get free Update from update option.
Stability Issues Bug Fixed.
Power Searches
emailing software, email marketing software, mass mailing, email newsletter software, mail sender software, email tools, email sender software, mass mailing software