Word File Details Editor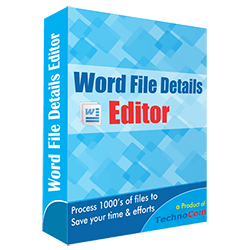 $ 29.95
Word File Details Editor has mastery in altering properties of MS word files. The software can edit details of extensions of word like .doc, .docx, etc. it can even process thousands of these files in one go. Properties like title, subject, author, keywords and many more with can be easily changed with the help of this small but effective tool.
This word files detail editor can be beneficial for the business bodies that do detail changing in word files. It is very quick in editing the properties and finishes the job precisely. The tool automatically builds a new folder to save the files with changed properties and at a place assigned by you.
These unique characteristics of this tool make it the best tool to edit details in word files.
It can change the details of word files quickly.
It is efficient enough to process bulk of word files in one go.
Word files of all formats like .doc, .docx and rtf can be dumped.
It can edit properties like Title, Subject, Author, etc.
You can save the files with edited properties in a target folder.
It is the best tool to edit properties of word files in bulk.
It is adaptive to all versions of MS office i.e. 2013, 2010 & 2007.
Optimized for Windows 10.
Get free Update from update option.
Stability Issues Bug Fixed.
Power Searches
doc properties editor, docx properties editor, word file properties editor, title editor,word document, word document properties