Word Document Splitter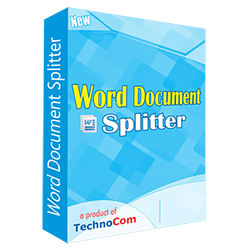 $ 39.95
The software Word Document Splitter was purposely designed to split pages of word files and create them into a new file. The software has all the properties required for the purpose of creating new word documents from word pages. This word page splitter can split pages of multiple word files into numerous new word documents. It can process word files of all formats like .doc, .dot, .rtf, etc. to turn them into files.
All the characteristics furnished in this tool are totally unique in nature. They fulfill every requirement of the user needed while changing pages into files. It serves choice to split pages & create files both page wise & div wise. Even after the files are created they can be saved in a target folder assigned or chosen by user only.


The operating div of this ingenious software is same as its working. It is very easy to handle and can be employed in daily work. The handling part is on four steps choosing & dumping of files, selecting options, assigning target folder and starting the process. So in four clicks of the mouse you have your newly created files on the screen. The software is adaptive to all versions of MS word i.e. 2013, 2010 & 2007 whichever version you have.
These amazing features & the speed of this tool make it the most preferred tool for this particular work.
It can easily convert pages of word files into new word document.
The tool has the ability to process word files of all formats like .doc, .docx, .rtf, etc.
It can execute word files in thousands of numbers.
Users can split word files both div wise & page wise.
It can work in all versions of MS word i.e. 2013, 2010 & 2007.
It is very quick and saves a lot of time of the user.
Optimized for Windows 10.
Get free Update from update option.
Stability Issues Bug Fixed.
Power Searches
Word document splitter, Document splitter, word splitter software, split document in word, large file dividers, word file dividers, word page dividers