PowerPoint File Details Editor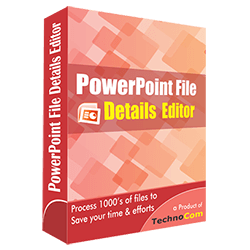 $ 29.95
PowerPoint File Details Editor is an expert devised to edit the properties of PowerPoint. All the latest and important features that are required while editing the properties exist in the ingenious software. The apparatus can execute PPT files of all extension & in huge number. The quickness of this software in editing the properties helps in saving huge amount of time.
This PPT details editor can alter details like author, title, category, keywords, etc. from PowerPoint files in bulk. This software even caters option to save the files in where the properties are edited. Those files can be saved in a target folder chosen by the user.

It's very user friendly & has an easy operation.It is the best way to edit properties in PowerPoint files.
This software can change properties of PPT files.
It can alter details like author, category, title, etc. easily.
The software can process PPT files like .ppt, .pptx, etc.
The tool has the capacity to process infinite number of files.
The files can be kept in a target folder assigned by the user.
The tool can perform well in all formats of MS office like 2013, 2010 & 2007.
It is very perfect in working and in finishing the job.
Optimized for Windows 10.
Get free Update from update option.
Stability Issues Bug Fixed.
Power Searches
PowerPoint File Details Editor, how to change document properties in powerpoint, how to change properties in ppt, how to edit properties in powerpoint, ms powerpoint file properties changer, edit properties in PPTX, edit properties in PPT