Word Document Page Setup Batch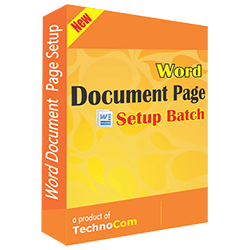 $ 39.95
Now easily setup margins and layouts in multiple word files with the assistance of this software. The tool also has options to change the Orientation of pages into Landscape or Portrait. Along with setting up of margins the software can even set page sizes in MS word. It has ample number of features that give lot of choices to set up different things in word files.
The features you get in this software are the latest ones & fully unique in quality. They are very easy to operate & give out results quickly. These features give you huge amount of choices whether you are setting up layout or margin or setting up page size you get all necessary options to set them.
The operation of this tool is also very advanced like its features but it is very simple to handle. All the options and choices are aligned in a way that users get whatever they need. The work starts with dumping of files where you want to do settings. Then you have to choose the options according to your need. Now go to command 'Folder Option' & assign a folder to save the files after the work is done. Then press on 'Start' command to begin the process. There are merely three steps to take and the task is done.
The tool Word Document Page Setup Batch tool can be very advantageous to organizations that do publishing work. It is also adaptive to all versions of MS word i.e. 2013, 2010 & 2007. It is the most preferred tool for this particular purpose.
The tool can setup margins & layouts in multiple word files.
Even page sizes & orientation can be set up in word files.
It supports all formats of MS word like .doc, .dot, .docx, .docm, .dotx, etc.
Also has the capacity to process thousands of word files in one go.
After changes have been made in the files user can save them in an assigned folder.
It can work smoothly in all versions of MS word i.e. 2013, 2010 & 2007.
Optimized for Windows 10.
Get free Update from update option.
Stability Issues Bug Fixed.
Power Searches
Remove objects, remove hyperlink, word remove all hyperlinks, word remove all hyperlinks, word image remover, word remove all hyperlinks, set margins in word