Parivartak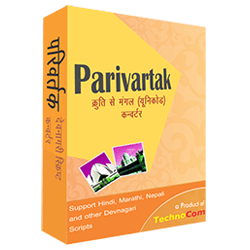 $ 39.95
Convert Kruti font into Mangal in shortest span of time with this inventive tool. All Devnagri scripts Hindi, Marathi, Nepali, etc. are supportive in this tool. It makes the work of user easy and effortless. The tool is very quick in finishing the job. It can be very advantageous for the organizations that do transcription.
Parivartak is an indigenous Unicode Converter & Editor. The tool can convert Kruti Dev into shusha in the shortest span of time. It can process thousands of Rtf/Txt files in one click. This Hindi Unicode Converter can convert Kruti font into shusha, Shusha to Mangal, Kruti to Mangal and vice-versa. The software supports all Devnagri scripts like Hindi, Marathi, Nepali, Maithali, etc. for conversion. This unique tool can be very supportive for DTP operators as lots of them like Page Illustrator/Maker don't support Hindi Fonts.

Parivartak has been made in such a style that even a normal person can easily handle it. This tool can be used for two purposes. Along with converting fonts user can also utilize it for editing purposes. The tool also provides an onscreen keyboard so that it can be easily operated by the user. Sometimes the English words that are present in the file also get converted and user faces difficulty in searching them again. To reduce this hectic process it has choice 'Leave English' which abandons English words while conversion. The files in which fonts are now converted can be saved in .RTF/.TXT format. It is considered as the best Unicode Converter.
The tool Parivartak can convert Hindi Unicodes quickly and efficicently.
It has expertise in converting Kruti to Shusha, Mangal to Shusha, Mangal to kruti & vice versa.
It supports all the languages of Devnagri Script like Hindi, Marathi, Nepali, Maithili etc.
User can utilize both options 'Unicode Converter' & 'Unicode Editor' to convert or edit fonts respectively.
The tool also provides an onscreen keyboard so that user can handle it easily with least mistakes.
The software is fast and accurate in its task thus saving a lot of time & effort of the user.
The files that have the converted fonts can be saved in .RTF/.TXT format for their use in future.
It is the best Hindi Unicode converter in the market.
Optimized for Windows 10.
Get free Update from update option.
Stability Issues Bug Fixed.
Power Searches
Hindi Unicode Converter, fastest Unicode converter, , Kruti to Unicode converter, kruti to shusha,Shusha to Unicode, Unicode converter tool,