Email Extractor Outlook N Express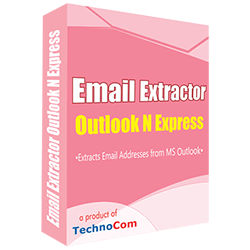 $ 49.95
Get email ids from files of MS Outlook and Outlook express. It supports both .PST and .DBX files and can get email addresses from thousands of them. The software has expertise in getting out email ids from the folders of Outlook too like inbox, outbox, sent, deleted, etc. Also the list that is extracted can be saved in both .TXT & .CSV format. It is tremendously fast and perfect in its job.
Email Extractor Outlook N Express is an innovative tool that was created to extract email addresses from MS Outlook and Outlook Express. It can extract email addresses from .PST (MS Outlook) & .DBX (Outlook Express). It has the ability to extract mail ids from bulk of these files. The tool is highly preferred for this purpose because of its speed and accuracy.  

Email Extractor Outlook N Express has been furnished with the best features that provides user huge amount of choices to extract email ids according to their needs & demands. User can extract email addresses individually from folders like inbox, outbox, deleted, sent, etc. Select or Unselect folders according to your choice and get the email addresses. The software automatically removes duplicate ids from the list saving ample amount of time of the user.


Users can also fetch email ids of their choice by the 'Filter' command provided in the tool. You can save the email ids that are extracted either in .CSV format or in .TXT format whichever you like. It is the best outlook email extractor.
Email Extractor Outlook & express can extract email ids from Outlook and Outlook Express.
It supports .PST files (MS Outlook) to extract email ids from it.
You can also dump .DBX files (Outlook Express) to extract email ids from them.
Users can extract email ids individually from folders from both outlook & express.
The email ids extracted can be saved either in .CSV (Excel) or in .TXT (Notepad).
The tool is very easy & smooth to operate and can run in all versions of MS Outlook.
It is very fast & accurate in its task and saves a lot of time & effort of the user.
Optimized for Windows 10.
Get free Update from update option.
Stability Issues Bug Fixed.
Power Searches
Outlook email extractor, email extractor, Extract emails from outlook, extract email addresses, outlook emails, Outlook spider.