Excel Workbook Details Extractor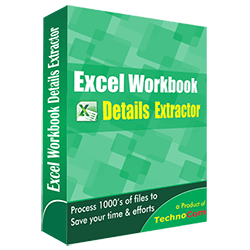 $ 29.95
Excel Workbook Details Extractor software can extract properties from numerous excel files. It capable of extracting properties from Excel files of all extensions like .xls, .xlsx, etc. The USP of this amazing tool is its efficiency to handle Excel files in huge number. The software is very swift in finishing the job and does exactly how you want.
All the features rigged in this excel file details extractor satisfy all the need of yours to extract properties. It can fetch details like title, category, keywords, author, etc. from huge number of excel files. It even has option to keep the data either in .TXT and .CSV format.

It is a quick and accurate finisher and saves huge amount of user's effort.
The tool can extract properties of excel files.
It extracts properties like author, category, keywords, etc. from bulk of excel files. 
It can process excel files of all formats like .xls, .xlsx, etc.
This tool is efficient to handle infinite excel files in one go.
The extracted properties can be saved either in .CSV format or in .TXT format.
It is adaptive to all formats of MS office i.e. 2013, 2010 & 2007.
It is very quick in finishing the task & does it accurately.
Optimized for Windows 10.
Get free Update from update option.
Stability Issues Bug Fixed.
Power Searches
excel workbook details extractor, properties extractor in excel files, excel file properties extractor, find properties of excel files, xlx properties extractor, excel title extractor, excel tags extractor