Word Count Mini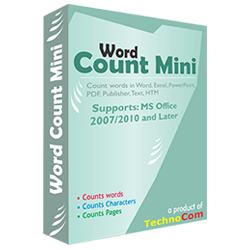 $ 39.95
This tool is the easiest way to count words, pages, lines, character, etc. in files. You can use this software for counting purpose in any file format and do counting in hundreds of them. The tool also produces report of the counting done and even has option to save that report. You can further generate invoice of the counting. It is a quick and accurate job finisher.
Word Count Mini software is made to reduce the workload of counting words and other things in files easy and effortless. It can do counting of words, characters, pages, etc in thousands of files within seconds. The tool can function in files of all formats like dot, .doc, .ppt, .potm, .pdf, .xlsm, .xls, .html, .txt, etc. It even generates report with the details of words and pages in all files which can be saved either in .doc, .txt or .html format. The preciseness & quickness of this tool takes it ahead of other counting tools.
Word Count Tool has some extra ordinary features like counting and generating report. With the help of the command Report Setting user can generate invoice of the words he has written. This can be beneficial for the writers who earn on the basis per word written. Users also get choice to generate report in Excel format with details of each file. It is the best line counting tool in the market at this reasonable rate.
Word Count Mini is an amazing tool that can count words, lines, texts, characters, etc. within seconds.
The tool can do counting in files of almost all formats like .doc, .dot, .xls, .xlsm, .pdf, .ppt, .potm, .txt, .html, etc.
It can process thousands of files in one click.
The report of totaling of words, line, etc. can be saved in .doc, .txt, or html formats.
The tool even generated the report in a columnar form so that the user can thoroughly see that which file had how many words, characters, etc.
It is very fast and accurate in its job thus saving a lot of time effort of the user.
Optimized for Windows 10.
Get free Update from update option.
Stability Issues Bug Fixed.
Power Searches
Word count tool,word count software, page count tool, MS word count tool, Software for word count, Word counting software