Meta Tag Extractor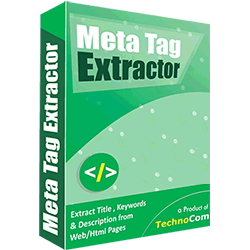 $ 49.00
Meta Tag Extractor is an extraordinary tool devised to harvest meta tags from thousands of URLs. It searches the websites of given URLs and brings out meta tags from them in bulk. This amazing tool can harvest meta tags such as Title, Description, Keywords, etc. from multiple URLs in one go.
It is very quick in the task & does exactly as commanded to it. This metadata harvester tool features that are rare to be found in any other tool of this field. The USP of this software is that it gets meta tags from all the links that it will come across on the web page of that link. Thus you get all the meta tags of the links present on that page. While harvesting meat tags users can names of meta tags if they require more than the default one rigged in the tool. 
Its not the only thing this meta tag analyzer has to offer. The meta tags that you have harvested can be saved either in Excel (.CSV format) or in Text (.TXT format) for future utilization. The tool has the capacity to process thousands of links in one go. users can add URLs from files if they have saved one already in  the system. Even if URLs are kept either in Excel or Text file then it can be utilized.
In short words this is a boon for S.E.Os & Web Developers & that is totally because of its features. The software is very quick & accurate in accomplishing the task & saves huge time & effort making it the best metadata harvester tool.
Harvest meta tags from Webpages of the given URLs.
Title, Description, Keywords, etc. can be easily extracted from the Web page.
Users can add more tags like heading, author, etc if they wish to extract.
Links kept in local directories can also be dumped
If user has links saved in Excel or text file he/she can employ that too.
The meta tags  extracted by the tool can be saved Excel or in Text file.
Optimized for Windows 10.
Get free Update from update option.
Stability Issues Bug Fixed.
Power Searches
Meta Tag Extractor, meta tags for website, Meta Tag Grabber, meta tag extractor tool, how to extract meta tags, extract meta tags for website, extract meta tags from website, fetch meta tags from website, Web Meta Tag Extractor