Excel Workbook Details Editor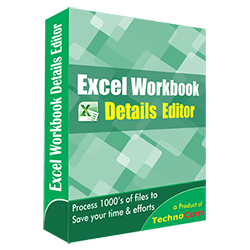 $ 29.95
Excel Workbook Details Editor is a tiny but effective apparatus that has been created to diminish the burden of altering details of excel files. It has been furnished with all the features that essential while editing properties of excel files. They help in accomplishing the task in the least time required. It is an expert in editing properties like category, author, title, keywords, etc. in bulk of excel files
This excel file details editor supports almost all extension of excel files like .xls, xlsx, etc. & has the capacity to execute huge amount of them in one go. It also has choice to save the files in where the properties have been altered. The files with the edited details can be kept in their native folder or a new folder can be created for them.

This tool is flexible to perform in all versions of Excel i.e. 2013, 2010 & 2007. It is the best tool to edit properties of excel. It can be a boon for the organizations that work on excel.
The tool has the ability to edit properties of excel files.
It can alter properties like category, keywords, author, etc. in excel.  
Excel files of all extensions can be dumped like .XLS, .XLSX, etc.
The tool is efficient enough to process infinite number of excel files.
The newly created files can be saved in a target folder chosen by user.
It is adaptive to all versions of MS office i.e. 2013, 2010 & 2007.
It is very quick in the job & does exactly as ordered.
Optimized for Windows 10.
Get free Update from update option.
Stability Issues Bug Fixed.
Power Searches
excel workbook details editor, excel properties editor tool, change properties of excel file, change properties of excel, excel properties changer, xlx properties editor, xlsx properties editor