Gmail Email Address Grabber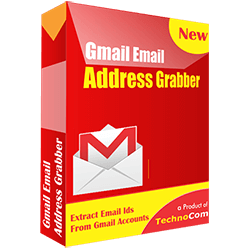 $ 49.95
Gmail Email Address Grabber tool has been designed with an objective of getting email ids from Gmail account. The tool is furnished with the most recent elements that give enormous alternatives to harvest email ids. It has the proficiency to bring email addresses from folders of Gmail like Inbox, draft, sent, etc. in huge amount.
It meets expectations at a surprising pace giving you the points of interest in the most limited chunk of time.
This Gmail email id extractor has the ability to get email addresses from fields like To, From, BCC, CC, etc. within seconds. Now if you need that the duplicate ids don't get downloaded you have to tick on the decision 'Do not list Duplicate Ids' & the copy ids from downloading. After the Email ids get extracted you can save them either in .TXT or .CSV as indicated by your accommodation. Hence this instrument can harvest email ids for you uprooting copy ones & notwithstanding sparing them for you.
This Gmail id extractor is a viable tool that helps in getting ids a lot. It has the easiest structure that makes it easy to work. These elements, speed & exactness make it the best Gmail email id extractor at this worthy cost.
The tool can get email ids from Gmail account.
It can fetch email ids from folders of Gmail like Inbox, sent, etc.
Users can even harvest ids from fields like To, From, CC, BCC, etc.
The tool has choice to restrain duplicate IDs from getting downloaded.
The data harvested can be kept either in .CSV or in .TXT format.
It achieves the target accurately in the shortest span of time.
It is devised keeping in mind that more & more user can utilize it in daily work.
It is the best way to fetch email ids from Gmail account.
Optimized for Windows 10.
Get free Update from update option.
Stability Issues Bug Fixed.
Power Searches
Gmail Email Address Grabber, Gmail Email Extractor, extract emails, web email extractor, extract emails from Gmail, extract email addresses from Gmail, best email extractor