Broadcast Batch Printing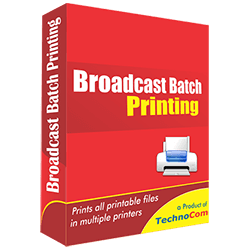 $ 69.95
This amazing software schedules printing multiple files from multiple printers. The unique thing about this tool is that it can schedule printing on any date & time you want to. The software can be very advantageous for the large organizations that have multiple printers linked. The speed and preciseness of this software makes it an extraordinary tool of its field.
Broadcast Batch Files Printing is a tool that makes the work of printing easy and effortless. This tool can process thousands of pages in one go. The features furnished in this tool are totally unique in nature. It can print files of different formats like .doc, .docx, .xls, html, .xml, ppt, .xlsx etc. and even images such as .jpg, .gif, .png, .tiff, .ico, .psd, .bmp etc. User can even assign selected printers of their office to print files. It is very accurate & quick in the job.


The software Broadcast Batch Files Printing has a unique feature equipped in it know as the 'Scheduler'. The scheduler sets-up the process of printing for a time & date chosen by the user. Another Unique feature of this tool is 'Directory Watcher'. This watcher automatically detects documents in selected folder and prints it at a certain time set by the user. This saves users effort of going again & again to the printer.
The software is really a boon for the printing organizations and also for the offices that do a lot of printing work. These features make 'Broadcast Batch Files Printing' software the best document printing tool.
The tool Broadcast Batch Files Printing makes the work of printing easier and smoother.
It can print thousands of files from multiple printers in one click.
There is an option named as Scheduler that gives choice of printing documents whenever the user wants them to.
The tool has a unique feature called 'Directory Watcher' that prints all the documents present in the given folder after some time.
It even presents a log sheet so that the user gets information about the printing done.
Users can print files of their choice by selecting different file formats of their choice.
Optimized for Windows 10.
Get free Update from update option.
Stability Issues Bug Fixed.
Power Searches
Broadcast printing tool,Batch PDF file printing, print multiple files, Broadcast printing pdf, batch printing, printing software batch printing software,