Word File Details Extractor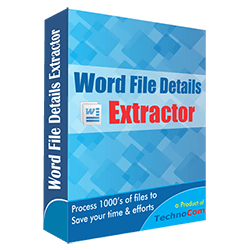 $ 29.95
Word File Details Extractor software is developed to extract properties of word files within minutes. It has the capability to fetch properties from word files like doc, docx, etc. and has the efficiency to process thousands of them. The speed and accuracy of this tool make it the leader of this particular field.
This Doc file property extractor has mastery in harvesting details like title, author, keywords, category, etc. in shortest span of time. It supports all formats word files like .doc, .docx, etc. whichever you dump. Users also have choice to save the details extracted either in .CSV or .TXT formats.
It is the best way to extract properties of word files without consuming much time of yours. The tool has been rigged with the unique features required to extract properties of MS word
The tool can extract properties of doc files.
Its capable of processing 1000s of word files in one go.
Word files of all formats like .doc, .docx and rtf can be easily processed.
Title, Subject, Author, etc. can be easily edited from word files.
The details extracted can be saved in .csv or .txt format.
This tool is the best one to extract properties from numerous word files.
It is flexible to work in all versions of MS office i.e. 2013, 2010 & 2007.
Optimized for Windows 10.
Get free Update from update option.
Stability Issues Bug Fixed.
Power Searches
word title extractor, document properties finder, doc properties extractor, docx properties extractor, properties extractor from word