Marathi Excel Invoice Software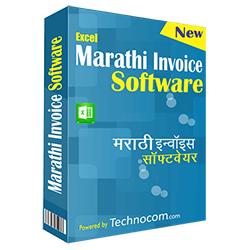 $ 34.00
Marathi Excel Invoice Software is made to generate invoices in Marathi language in the shortest span of time. It has specialization in making bills quickly that is fully understandable by the customer. The format of this tool is totally built in Excel & this is the reason it is also known as Marathi Excel Billing tool.
This Marathi invoice generator has features that are extraordinary in work. They make invoice generation simple & straightforward. This apparatus is secured fully with password which ends all opportunities of forgery. Even user has the freedom to set more than one company & clients as per the requirement. That means if you have already created a new company or client you can still make a new one.
The choices accustomed in this Marathi billing software that give huge to the users for numerous purposes. You can add number product for lots of categories of products like clothing, food, cosmetics, etc. This feature is more pleasing for the department stores. Even if a product is going to be out of stock soon the software has alarm that warns you about that product. You just have to set the alarm at a mark you want it to warn. Along with the divisions of products you can also change various fields. For e.g. the tax field which you can alter it depending upon the variation of it.
This Marathi invoice maker can also generate reports of sales representative, company, products, sales, etc. So the work does not at just making receipts but also giving power to make changes in the categories. This Marathi bill generator is comfortable to work in all versions of MS Excel. You can install & execute it in 2013, 2010 or 2007. The speed & accuracy of this amazing Marathi Billing Tool reduces the time taken along with the effort of the user. We can definitely say it is a multitasking tool and also the best Billing tool in Marathi language.
Generates invoice in Marathi language.
The invoice made is totally acceptable to the client.
Users can set more than one client company.
You can also create several categories for numerous products.
The tool is password protected that secures your data.
The tax field can also be changed as per need.
It can perform in all versions of MS excel without any hesitation.
It works in tremendous speed & accuracy saving huge time & effort of the user.
Has an alarm that warns about the product that is getting short.
This is the best Marathi billing tool.
Optimized for Windows 8.
Get free Update from update option.
Stability Issues Bug Fixed.
Power Searches
Excel utilities, Excel VBA, macros in excel, Excel duplicate remover, excel ASAP utilities, excel remove spaces, Excel add ins, Excel macros