Hindi Invoice Software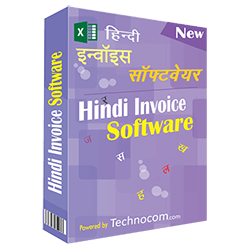 $ 34.00
Hindi Excel Invoice Software is developed to make invoice generating in Hindi easy. The software makes invoices at tremendous speed & the receipts generated by the apparatus are totally acceptable by the client. It is also known as Hindi Excel Billing tool due to its Excel made structure.
This Hindi invoice generator has been rigged with the latest characteristics that are totally unique & makes the work of generating invoice without any hesitation. The tool is totally password protected & culminates all chances of forgery. Users can also setup many companies & clients according to their requirement. So if you have already created a company or client & wishes to create a new one you can easily create.
The USP of this Bill generator In Hindi are its given options that provide users vast for numerous purposes. You can add as many product details you want. Even you can create default category for different product categories like food, clothing, cosmetics, etc. making it beneficial for the department stores. Even if a product is going to be out of stock soon the tool will warn you about it. You just need to setup the alarm at a point you want it to warn. You can also change various fields in the tool along with the category of products like the tax field. It can be altered depending upon the circumstances of it. Reports for sales representative, company, products, sales, etc. can also be generated.
So the tool not only makes invoice but also gives you freedom to make changes. We can undoubtedly say it is a multitasking tool.
This Invoice maker in Hindi is flexible to perform in all versions of MS Excel. So either you have 2013, 2010 or 2010 it will work smoothly in all of them. The quick & precise nature of this amazing Hindi Billing Tool reduces the work time & effort of the user. It is the best Billing tool in Hindi language.
It can generate invoice in Hindi language.
The invoice generated is easily acceptable by the client.
Users can make various clients & companies for use.
It can create categories for different products according to your need.
You can secure data and other details with password.
It also has option to alter the tax fields.
The tool can perform well in all versions of MS Excel i.e. 2013, 2010 & 2007.
It is the best software to generate invoice in Hindi language.
Optimized for Windows 8.
Get free Update from update option.
Stability Issues Bug Fixed.
Power Searches
Hindi Excel Invoice Software, bill generator, excel invoice generator, create invoice, best billing software, best invoice software, easy billing software, billing software in excel, receipt maker